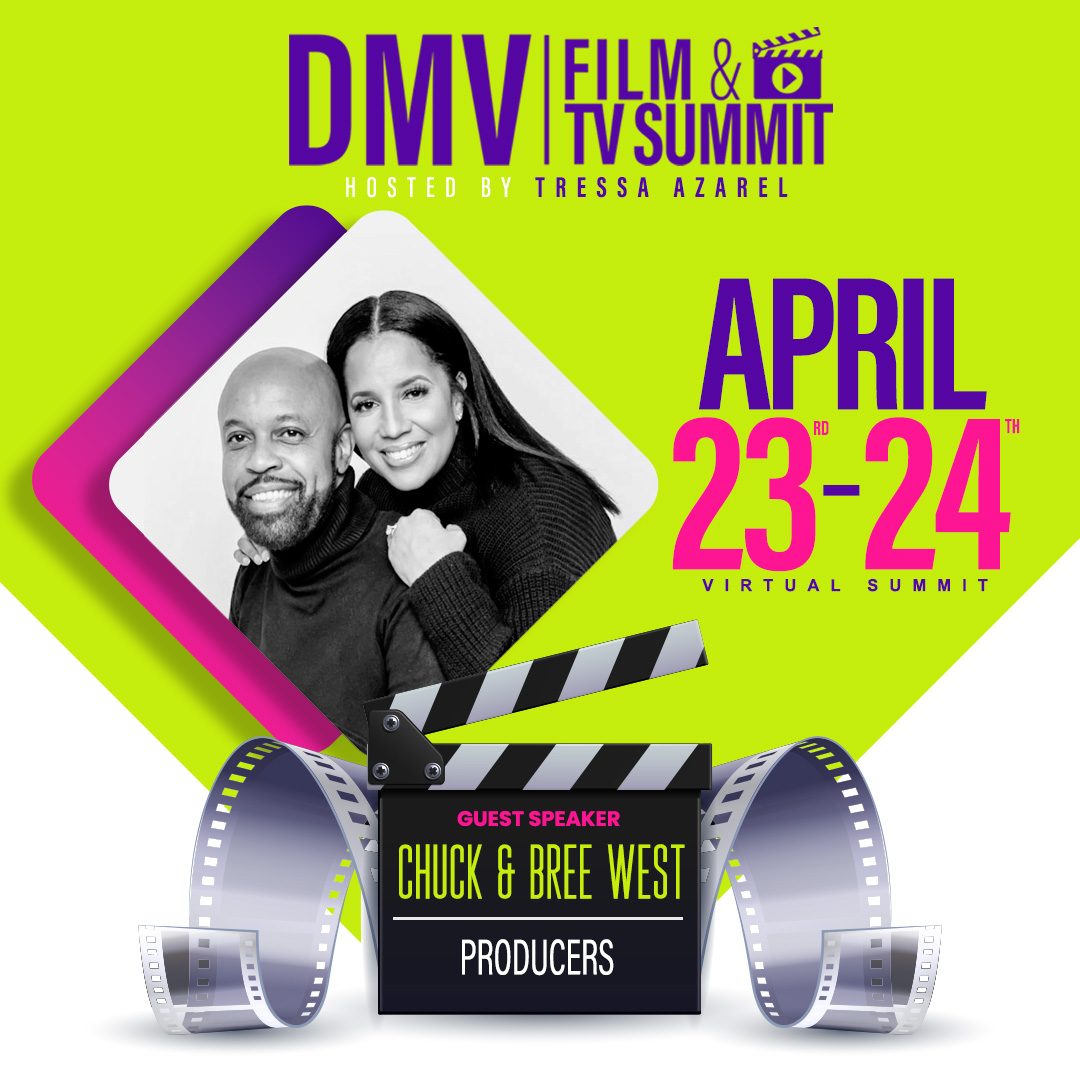 Chuck and Bree West are the lead producing duo of OCTET Productions.  Founded in 2015, OCTET Productions is a full-service production company based in the District of Columbia. OCTET's first film projects were theatrical productions entitled, "You Can't Hurry Love", starring LaTarsha Rose, Essence Atkins, Richard Brooks and Victoria Rowell and "Addicted To You", starring Letoya Luckett, Brely Evans and Thomas Q. Jones. Both projects premiered on Urban Movie Channel (Now ALLBLK) and have been licensed to BET Network. "Couples' Night" starring Charles Malik Whitfield, Regan Gomez, Denise Boutte, Tony Rock and Clifton Powell, was Chuck's first feature film project, which premiered on Urban Movie Channel, was distributed in the United 
Kingdom as well as the continent of Africa. OCTET went on to produce "The Lost Soul's Café" for TVOne, starring Loretta Devine, Christian Keyes, Kiki Haynes, Ernest Thomas and Major.  The husband and wife duo has produced projects in the DMV, Atlanta and Los Angeles. All of their productions have premiered on UMC (now ALLBLK), TVOne or BET. OCTET also produced The Boris Lawrence Henson Foundation's (Taraji P. Henson's mental health foundation) first ever mental health conference in Washington, DC.
The Wests have over twenty-five film credits and pledge a commitment to educate students in the DMV area, as well as other areas across the globe. In fact, with each production, OCTET Productions ensures students are given the opportunity to shadow the company heads as well as work within different departments of the production. 
 "As a student, you learn a lot in class, but you can learn more when you are able to get hands on experience and be exposed to various obstacles that you have to overcome during a live performance on the other side of the camera." said Chuck. Bree followed with, "We believe it is our responsibility to expose our youth to the inner-workings of an industry that has been inaccessible to our community in the past. They need to know that there is so much more to film production than acting. With knowledge comes options."
Most recently, on January 20, 2021, the couple produced a groundbreaking 1st Ever Virtual Inaugural Gospel Celebration in honor of the Presidential Inauguration for President Joe Biden and Madam Vice President Kamala Harris, which was hosted by Award winning actor/comedian Anthony Anderson, with special guest presenters Morris Chestnut, Taraji P. Henson, Lamman Rucker and the incomparable Pastor Shirley Caesar the show featured 16 of the worlds most revered gospel artists.  Due to the overwhelming response an Encore Gospel Celebration of Unity was aired in Africa, Ireland, and the United States during Black History Month 2021. 
Always on the cutting edge on December 12, 2020, OCTET released two (2) projects a BET Original holiday film "The Lottery Christmas" and first ever pay-per-view LIVE stage play, "Love On a Two Way Street", the 2019 holiday  film, "'Twas The Chaos Before Christmas" starring Cynthia Kaye McWilliams, Sherri Shepherd, Affion Crockett and Victoria Rowell, premiered on BET and BETHer and was viewed by 1.2 million homes on premiere night, which made it the highest-rated holiday film for years 2018-2020  on the network.  "'Twas The Chaos Before Christmas" earned the film an NAACP nomination during the 2020 award period.
Chuck is a nationally accomplished producer in the worlds of Broadway and urban theater as well as the film industry. A former college basketball star who had the foresight to earn his degree in Finance with a concentration in Accounting from American University, West started his career as a financier and partner, producing the landmark plays of the acclaimed playwright, film writer and director, David E. Talbert. This partnership catapulted the duo into the forefront of mainstream urban theater, where the young producer quickly became the industry's standout leader specializing in the urban market. Chuck is responsible for producing productions such as David E. Talbert's, "He Say, She Say… But What Does God Say?" starring Kirk Franklin; Ntozake Shange's Tony Award-winning play, and "For Colored Girls Who Consider Suicide When The Rainbow Is Enuf" starring Jackee Harry.  Chuck West was recognized as the District of Columbia Office of Cable Television, Film, Music, and Entertainment (OCTFME) January 2020 Filmmaker of the Month.
Bree began her film production journey when she co-executive produced Lifetime Network's, "The Real MVP: The Wanda Durant Story" with Flavor Unit Productions in 2015. Her passion for the look and feel of the production, coupled with her need to maintain the authenticity of the story led to Bree's immediate steps to take a more active role in hands-on producing film projects that have come to be coined, "OCTET Pretty" in the industry.
 Together, Chuck and Bree are a force to be reckoned with, look out for what's next, coming from this tag team husband and wife duo.