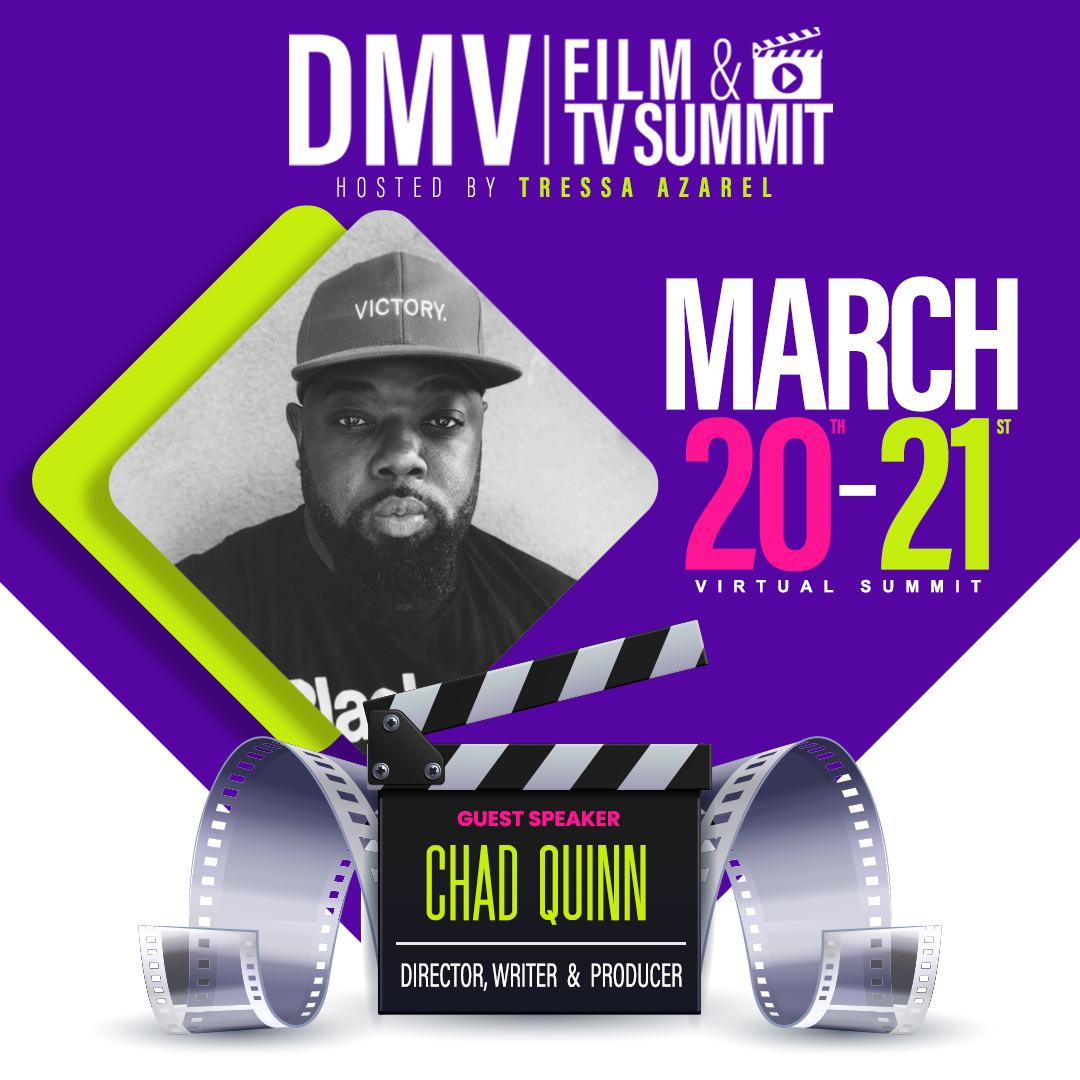 DIRECTOR, WRITER & PRODUCER🎬
A native of New Jersey, Chad attended Temple University where he obtained a degree in marketing and business law. He then went on to pursue his law degree at Howard University School of Law. During his studies at Howard, Chad realized that the experience only renewed his passion for writing. After 10 plus years in corporate America, he decided to put all his efforts into his craft. With no formal training, Chad has managed to place as a finalist in multiple film festivals, from HBO's Project Greenlight to the American Black Film Festival's TVONE competition. The situation with TVONE turned out to be a fruitful relationship as his first feature film was bought by the network. In the summer of 2014, Mr. Quinn's TV pilot series "The Kids…" was rated as the top unsigned pilot series by The Black List.
This writer/director has multiple films that have done extremely well on the festival circuit including, the short film, PERCEPTIONS, which boasts an amazing ensemble cast which includes – Alimi Ballard, Charles Malik Whitfield, Malinda Williams to name a few. His film MIXED, which he directed, premiered at Hollyshorts as well as the American Black Film Festival (ABFF). Chad has worked extensively to create projects that highlight and examine the human condition. For the Love of Musiq, which he wrote and directed stars Andrea Rachel Parker, Bryan Terrell, Clark, Malinda Williams, along with many other stand out talents, won Best of The Fest at the 2018 Hip Hop Film Festival. Additionally, the film was just selected to screen at the prestigious Pan African Film Festival PAFF and also aired on Revolt TV.
Mr. Quinn truly takes the monarch "art is a weapon," to life as he's also teamed up with Ava DuVernay and Ryan Coogler's Blackout for Human Rights, a network of concerned artists, activists, filmmakers, musicians and citizens who committed their energy and resources to immediately address the staggering level of human rights violations against fellow Americans throughout the United States. Blackout for Human Rights was recently selected as one of Ebony Magazine's #EbonyPower100 Honorees. Chad was also recently selected as a top 10 finalist for a fellowship with Sesame Street Writers' Room and named as a Notable Writer for 2018 by NYTF. In his young but blossoming career, Mr. Quinn has already had three feature films that premiered on network television; Loved To Death (TVONE), Christmas Belles (BET), and A Christmas Surprise (BET). He currently is working on two new projects slated for the fall of 2021.